The Stax Story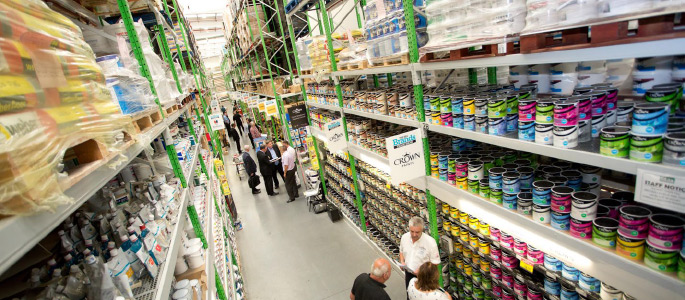 Opening our doors in 1981, Stax Trade Centres has grown from just a single warehouse in the outskirts of Manchester to a leading national multi-channel wholesaler, operating from 6 massive branches.
With over 600 staff, Stax is at the forefront of the non-food wholesale sector and services over 50,000 customers. You're likely to find a Stax retailer customer in almost every town or city in the UK, which means the products that move through the Stax supply chain, service over a third of the UK population to some 25,000,000 consumers.
A long-term job with true career prospects
As a company, Stax has a reputation as a first-class employer with almost half of our entire workforce having been employed for over 10 years.
Our ethos has always been to promote from within with many senior staff having risen through the ranks.
Meet our IT Director, Della Butler
Della originally joined Stax 34 years ago at 18 as a shop foor Section Assistant. During her 34 years Della has worked on the shop floor, in the buying office, progressing to Group Purchasing Manager before moving into the IT department and being appointed to the board of directors over 15 years ago.
Now responsible for the entire company's IT systems and data management Della has a team of 7 people directly reporting to her, 6 of whom have also been promoted from within the company to their present position.
Stax now has a turnover in excess of £100m and employs over 600 staff but still manages to retain its one big family ethos.
The company has always prided itself on providing customers with the highest level of customer service from a well-trained and helpful team of employees. All staff, whatever their position, take part in in-house training to ensure that we're all continually moving forward.
Stax Values
Looking after our customers
Our success is totally reliant upon the success of our customers. That's why we always put our customers' needs at the forefront of everything we do.
Keeping everybody safe
Safety is paramount at Stax, so as you'd expect our safety record is first class. And we intend on keeping it that way!
Rewarding good work
Hard work pays off. That's why we formally recognise and reward our staff who go that extra mile.
One big family
We're all on first name terms so we've never lost the personal touch. We're one big family all working together for the same goal so treating each other with trust and respect is paramount.
Being the best we can be
If we all give our best for our customers and suppliers we'll get the best in return. Making sure the bar remains consistently high is what we're all about.